There are many places on this planet that you can see the majesty of our creator's great creation; Utah is a state that you get to experience God's various contrasts of His beautiful planet. One of the best ways to experience God's magnificent creation is to embark on a Utah road trip. However, with Utah being the 13th largest state in total area, you must plan and prepare your trip in advance.
In this article, we will share with you a 5-day Utah Road trip itinerary that we feel maximizes your time, to not only enjoy Utah but to see some of the best of what Utah has to offer in a very short time. Our 5-day Utah road trip itinerary starts and ends in Salt Lake City for those wanting to fly in and out of a location that makes this itinerary the most feasible for most people.
There are many other itineraries available, however, we have found this to be a great itinerary for first time Utah visitors, or those who have limited time to visit Utah. Our latest trip to Utah included this 5-day Utah road trip itinerary, so we hope this inspires you to visit this wonderful and integrating state.
Pre-Planning your UTAH ROAD TRIP
Before you book your flights, rental car, and hotel, it is probably best to do some preparation and pre-planning for your Utah Road trip. The first preparation you need to do is determine when you want to spend your time in Utah based on the weather. Because of the contrast in topography, weather can range widely depending on where you visit. According to Weather-us.com, Utah has a mainly dry, semi-arid, and desert climate. Summers are long and extremely hot, while winters are short and cold.

During this 5-day Utah Road trip, you will go through many different climates, so plan accordingly. The weather, precipitation, and temperature in Salt Lake City, Park City, and Moab can be so very different, so when you go and what you pack will be different based on when you go and what you do.
The best time to visit Utah
According to Weather-us.com, the best time to visit Utah is during the spring, from March to May, and autumn from September to November. These shoulder seasons are colder than the severely hot weather of summer but warmer than the cold winter. Spring brings unexpected precipitation in some parts of the state.
The fall is a colorful period in the high mountains of Utah when the landscape attains scenic beauty. The summer heat is oppressive, and the season is prone to thunderstorms. October has pleasant weather with comfortable days and nights, but diurnal temperature variations exist throughout the year.
The worst time to visit Utah
According to Weather-us.com, the worst time to visit Utah is in the winter from December to February, with severely cold nights and extreme temperature variations. Frequent snowfall leads to substantial accumulation in the highlands, with 1 to 3 feet of snow depth being standard. Arctic air escapes through the mountain passes to bring sub-zero temperatures in the state.
High-speed winds often exacerbate the effect of the cold. The light, fluffy, and deep powdery snow makes skiing popular in Utah in the winter season. Many visitors vie for experiencing 'The Greatest Snow on Earth' on the mountain slopes of Utah.
What to Pack When Visiting Utah
Packing correctly for your visit to Utah takes some intentionality. During our first visit to Utah, we did not prepare for what to pack and wished we had prepared a little more. However, after taking this 5-day Utah road trip, we feel so much more informed, from personal experience, of what to pack. Or, in some cases, what to purchase during your trip.
There are some great stores in Moab. Our favorite place to "gear" up in Moab is at the Moab Gear Trader. We highly recommend that you stop there, even if you think you packed all you needed. You actually might find something you need or want!
Here is a list of items we recommend you pack or pick up during your 5-day Utah road trip:
Warm/Cold Clothes. With varying temperatures and precipitation, plan on being hot and cold on the same day, so pack in layers. Our first morning in Moab it was 55 degrees at 7am, then by 5 pm, it was 95 degrees.
Sturdy Hiking Boots/shoes. If you plan on hiking, which is one of the must-do things on this trip, you will be walking on uneven terrain and on rocks and soil. It is important you have hiking boots or shoes that are supportive, waterproof, and have great traction.
Rain Jacket/Poncho. Be prepared for a quick rain shower while you are on a trail or on a hike. Packing a lightweight rain jacket or poncho is a must.
Water Bottle/Camel Backpack. It is important to keep hydrated when you hike. Add the dry climate and heat, you can easily become dehydrated. Pack a good water bottle or use a camel backpack to keep the water flowing. When you visit the welcome centers at the National Parks, they have filling states available. Another tip is to purchase a case of bottled water at the local grocery store in Moab, that way you have water available all the time. Just make sure to throw your plastic bottles away appropriately when you are doing. There are several recycling bins available in the park.

Sun Screen. The sun is hot and direct, so a good sunscreen is a must, especially if you burn easily. A sunburn can ruin a short getaway.
Sun Hat/Sunglasses. Along with sunscreen, pack a good wide-brimmed sun hat that can keep the sun off of your face. Sunglasses are also a must-pack item. And, because you will be hiking and exploring, some sunglass straps would be a great idea so you don't lose your glasses as you take them on and off to take pictures to capture the magnificent surroundings.
Cooling Rag. Keeping cool and hydrated are two things you will be wanting as you hike and explore. A good cooling rag or neck scarf is a great packing item.
Facemask. At the time of writing this, facemasks were required in Utah due to COVID-19. And, because crowds can be large at different places on this itinerary, you want to make sure you have a good facemask you can wear for extended periods of time. Plus, it was required to wear on the flight to and from Salt Lake City, so park accordingly. Even if not required, there is dust everywhere and a good facemask can protect your lungs from the dust.
Bug Spray/bug bite medicine. You will encounter bugs during your 5-Day Utah road trip, so make sure you pack or purchase some bug spray before you begin exploring or hiking. We were surprised at the gnats and flies at the Great Salt Lake stop. We were not prepared for the bugs; bug stray would have been great to put on before we explored. Also, pack some medicine to treat bug bites after the fact. You will get bitten, so be prepared. We especially like After Bit, which can be purchased from CVS.
Day Bag/Backpack/Waist Pouch. Rain jackets, sunscreen, cooling rags, bug spray, and everything on this list has to go somewhere; they do any good sitting in the rental car in the hotel room. Make sure you take a lightweight day bag, backpack, or waist pouch. We used a day bag to put most of what we might need in and then I wore a waist pouch to carry my phone, car keys, and a few snacks. It was easier to put things in and out with a waist pouch vs a daypack or backpack.
Table Cloth/Utensils

. There are many great places to do a picnic, and since you are going to be in the National Parks for many hours, you will want to eat. The National Park Service has done a great job providing covered picnic tables to use throughout the park. There are great places for you to eat a snack, lunch, or dinner (and even breakfast). However, covering the table will help to protect the food and the area around you. Also, unless you bring finger food, bring some plastic or campsite utensils with you.
Wet wipes/Clorox wipes. In addition to the table cloth/utensils, you will want to bring some wet wipes or Clorox wipes (if you have them). This will help to wipe down the picnic benches, but can also be useful for when you want to clean your hands or other body parts.
Hand Sanitizer. The National Parks have done a great job of having hand sanitizer stations near restrooms, however, having your own is a great idea.
Cell Phone Charger

. You will want to take a lot of pictures while you are on this 5-Day Utah road itinerary; especially during the National Parks visits. If you are on long hikes, the last thing you will want is to run out of juice with your cell phone. The cell phone coverage is spotty in many places, so your battery life could be drained quickly as it searches for signals. It is hard to charge in your car since you will more than likely be stopping often for a hike or to take pictures. Don't let your memories be lost because you didn't bring a cell phone charger!

Flashlight/Headlamp. If you live in the city or a suburb, you don't realize how dark it is on the top of a mountain or in the middle of a National Park. A flashlight or headlamp is recommended if you plan on visiting after dark. Pack one and throw it in your day bag or backpack just in case. We recommend visiting the National Parks after dark. You get a different perspective, plus the stargazing is out of this world!
Plastic Bags

. Pack some plastic bags that you can use for trash, or to pack some items you can then put in your day bag or backpack. We also pack extra plastic bags or ziplock bags when we travel, there are so many uses for them.
National Park Maps

. You can either download the National Park maps before you leave or pick them up at the visitor's center. Either way, you will want them to reference. The National Park System does a great job with their maps. They are informative and they are great to map out your stay while you are there. Normally, as I am dring, my wife, Nikki, will be looking at the map and determining the best use of our time. They also make great souvenirs to take home with you. They can also help you remember locations and formations you saw when you get home for your picture and telling your friends about it!
Guidebooks

. There are many resources you can use to help navigate this 5-day Utah road itinerary, including this article. However, a good old trusted guidebook can be a lifesaver. This will help to enhance your trip and some great reading.
Driving Tour App

. If we did anything differently, we would have purchased a driving tour app before we started. We recommend the GyPsyGuide for this area. Being our first time, and wanting to experience all we could during our 5-Day Utah road trip, a driving tour app would have only enhanced what we already saw, and it would have helped us see other things we should have seen. For a very small cost, we could have had an even better experience to share with you. We will for sure purchase this next time or anywhere this app has available.
Utah Road Trip Map OVERVIEW
Since this 5-day Utah road trip itinerary is very short and the state of Utah is very large, you want to maximize your time in Utah, and at the same time see some of the best of Utah. This 5-Day Utah road trip itinerary starts in Salt Lake City and also ends in Salt Lake City, so the itinerary will focus mostly on day drives to each location and within one day drive back to Salt Lake City, to minimize your movements.
In total, the amount of drive time is less than 15 hours, with the longest drive times driving from Moab to Salt Lake City. The drives are easy and have wonderful surroundings. When we go through the 5-day Utah road trip itinerary, we will expand the itinerary and give you our recommendations and point of view from personal experience.
Below is an overview map of our 5-day Utah road trip itinerary: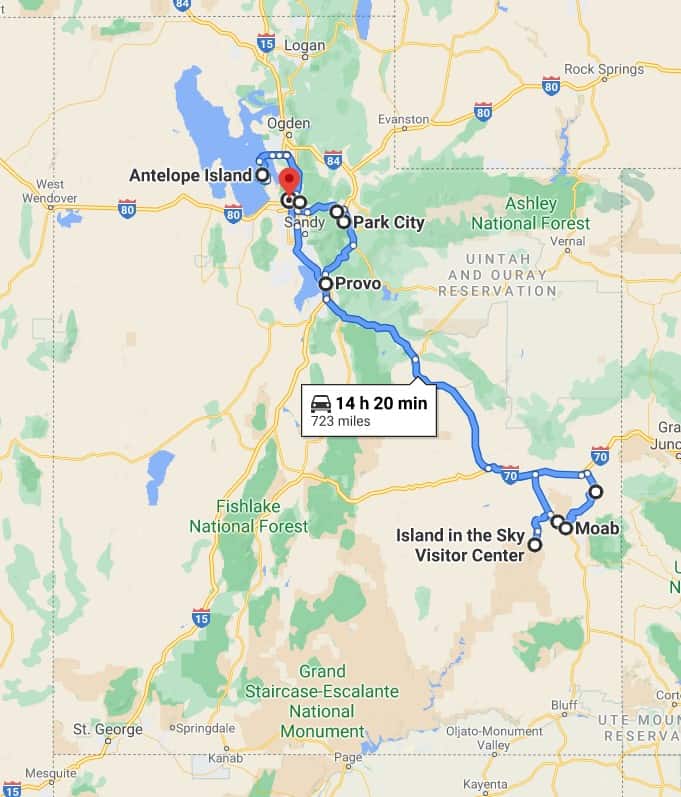 5-DAY Utah Road Trip Itinerary
This 5-Day Utah Road trip itinerary is based upon flying in and out of Salt Lake City. For most visitors, this is going to be the best gateway to visit Utah. For the purposes of our road trip itinerary, we were flying from Indianapolis, so Indianapolis will be referenced as the bookends of this trip. However, you can easily include your gateway into this itinerary.
This was our first visit to Utah, so this itinerary was based on our initial research and planning. Within each day, you will find some suggestions and our thoughts on this 5-day Utah road trip itinerary. We hope you enjoy what we experienced and hope that it encourages you to do the same 5-day Utah road trip itinerary in the very near future.
Utah Road Trip – Day 1 (Arrival/Great Salt Lake/Salt Lake City/Park City):
Fly from Indy to Salt Lake City – Southwest or Delta have good routes to Salt Lake City
Pick Up Rental Car
Drive Downtown to visit the Capital and city overlook at Ensign Park and Peak
Drive to Park City Utah
Stay overnight in Park City
Your first day in Utah begins will arriving in Salt Lake City from your destination. The airport at Salt Lake City (SLC International) is easy and quick to navigate. At the time we visited, the old terminal was operational. However, the new terminal will be opening soon (October 2020) and could even make navigating the airport even quicker.

Picking up a rental car is easy as well. There are many car rental companies at the terminal with an easy walk from the luggage from the Southwest terminal. We decided to rent a car from Fox Rental, only because of the cost. The cost was about half of those at the airport. Because Fox Rental Cars is not located at the airport, they offered a free shuttle to their lot. The shuttle bus was easy to find and took about 15 minutes to get to. At the time of this article, the shuttle bus was parked right in front of the rental car building at the airport.
Our first stop in Utah was to the Great Salt Lake at Antelope Island State Park. The drive to Antelope State Park from the airport is about one hour. It is an easy drive from the airport with many places to stop and eat or even to stop at a grocery store to get some food or snacks. Antelope Island was one of the highlights of this 5-Day Utah road trip. Not because of the Great Salt Lake, but because of the large population of Bison. We were not expecting to see so many bison in so many spots. We could have spent more time at Antelope Park hiking and touring the farm they have but opted not to.
Our second stop was a quick tour of downtown visiting the Ensign Park and Peak and the Utah State Capital. Since it was Sunday, the capital was not open, nor the nearby buildings. On other days, various tours of the capital and downtown are available. Some of the best pictures of the downtown and capital can be taken from Ensign Park, regardless if you go all the way to the top of the peak or the small picture sites.
After our Downtown visit, we drove to Park City Utah. The drive is about 1 hour and 45 minutes from downtown Salt Lake City. The drive is easy and fun since there are many bends on the highway and the scenery is beautiful, especially as you get closer to Park City, Utah.
Once in Park City, we checked into our hotel. We stayed at the Marriott Summit Watch, which was right on the historic main street in Park City. There are many hotels or condos available in this area. Make sure you book early, they fill up fast. We highly recommend checking out the main street in Park City. Between the various shops and places to eat, it was a good time!
Overview of Day 1:  


Start/Finish Locations: Salt Lake City/Park City
Total Miles Driven: 245 miles
Best Tip for the day: Take bug stay with you when visiting the Great Salt Lake
Must-Do for the Day: Antelope Island State Park
Recommended Place(s) to Eat: Various establishments depending on your appetite on the historic main street in Park City.
Utah Road Trip – Day 2 (Olympic Park/Provo Canyon/Upper Colorado River Scenic Byway):
After a good night's sleep, you can take some time to explore the city of Park City and the adjacent area. There are some great coffee shops and places to eat breakfast in the historic main street. If not, pick up something from a local grocery store. We visited during the summer, so the crowds and traffic were not bad. However, during the winter, plan to spend some extra time getting around the area due to traffic.
After exploring, or driving around Park City, drive to the Utah Olympic Park. This is only 8 miles north of Park City. Depending on the traffic, it could take 15 minutes, or much longer. There are some alternative routes to get there, so check out your GPS.
Being summer, and during the COVID Pandemic, there was not much activity at the park, however, we were able to go into the visitor center and take some time exploring the museums they had. We especially enjoyed the second-floor museum where they had items from the Olympics. It brought back some great memories. Make sure you check out the museum in the visitor's center.
The park does have some activities, so check them out and purchase ahead of time since they are limited to the size and time of the activities.
Once you are done at the Utah Olympic Park, it is time to make your way to Provo via the Scenic Provo Canyon. Provo Canyon connects Heber City to Provo and is the starting point for several attractions including Bridal Veil Falls, Sundance Resort, Timpanogos Cave National Monument, and Cascade Springs.

This is a beautiful drive and we were surprised at how beautiful it was. This is a wonderful drive and will take about 1 hour, depending on where you stop, and you will for sure want to stop at a few places. The scenery really starts to get wonderful after you go through Herber City. We did not take time to stop in Herber City, but if we did it over, we would, just to explore; it is a neat town. My wife, Nikki, loves waterfall, so a stop at Bridal Veil Falls is a must for waterfall lovers!
Bridal Veil Falls has a viewing area right off the highway. You can even hike a short trail to the bottom of the waterfall. For those a little more adventurous, you can hike up to different levels of the falls. Either way, it was very surprising to find this gem in the very arid climate of Utah, so soak it in!
After visiting Bridal Veil Falls, you are not far from Provo Utah. The highway takes you downtown and near the Brigham Young University. Being a college town, Provo has some great places to eat, so plan on eating lunch here. We highly recommend eating at the Black Sheep Cafe. This cafe, while small, has some great menu items and the food is delicious. Simply the best food we had on the ENTIRE 5-Day Utah road trip. Then, if you want some dessert, there are a few bakeries around the same area.
After leaving Provo, you will now head to Moab. This stretch of the drive is the longest of the entire 5-Day Utah road trip itinerary. The drive is a little shy of 4 hours. Plus, there are very few places to get gas or food, so fill up BEFORE you leave. If you have a small bladder, like me, be careful to drink too much. While there are a few rest stops, they are few and far between. Utah-6 is a great drive with many different colors and landscapes. You will be amazed and will for sure see the many contrasts of Utah.
As you approach I-70, we recommend you once again fill up and gather some snacks, drinks and take a break before you complete your trip. Instead of taking the standard Highway 191 directly to Moab, as most do, instead, continue on I-70 to the next exit, 204, and take Highway 128. At first, you will say to yourself, where is everyone and what did I do. The road is windy and barren but just wait.
Highway 128 was the gem on our trip. There is very little traffic and the views are magnificent. There is plenty of places to stop, hike, and picnic if you wanted to. Just make sure you fuel up before you do this since there are no places to stop to get gas. It will be worth your time to do this route!
By far, the best part of this 5-Day Utah Road trip itinerary was the Upper Colorado River Scenic Byway. This scenic byway gets better with each mile. It has several views that you just want to stop and enjoy. There are also several trails you can hike if you have the time. Make sure you take time to stop and enjoy as much as you can. The byway ends in Moab, just in time to check into your hotel.
There are several hotels/motels to stay in Moab, with new ones being built. You can choose from national chains (Mariott, Hampton, ect.), or some local motels. Moab is not large, so the availability could be limited based on when you travel. For that reason, we recommend booking early.
We personally stayed at the Fairfield on the north end of Moab. This is the PERFECT location for this 5-day Utah road trip itinerary since it is the closest hotel to the Arches National Park and the Canyonland National Park. There is also a Springhill Suites right next door that shares the same outdoor activities area. And, if you have kids, they have a great pool area with several hot tubs and a kiddy pool.
Overview of Day 2:  


Start/Finish Locations:  Park City/Moab
Total Miles Driven: 286 miles
Best Tip for the day: Make sure you fill up your rental car BEFORE you head to Moab from Provo
Must-Do for the Day: Upper Colorado River Senic Byway
Recommended Place(s) to Eat: Black Sheet Cafe in Provo, UT
Utah Road Trip – Day 3 (Arches National Park/Moab):
Your third day of this 5-day Utah road trip itinerary will mostly be spent at Arches National Park. Since most of the day will be spent at the park, make sure you are prepared to spend the entire day there. The park is large but not too large for you that you will need to take multiple days to see everything unless you plan to do every trail.
This is also the day you will utilize most of what we recommended in the "What to Pack" section. We recommend two things before you leave for the park if you have not done so far (you can also do this the day before if you want to get to the park early):
First, go to the local grocery store. We recommend the City Market. This grocery store has just about everything you might need from food, water, etc. And, since it is affiliated with Kroger, most will have a loyalty card to get discounts. We used it to get deli food and purchase bottled water for our day at the park.

Second, pick up additional hiking supplies before you leave. Or, if you think you have them all, still stop at the Moab Gear Trader. You will find what you are looking for, plus a few other items. Make sure you check out their entire store before you leave. Since the Moab Gear Trader is very close to City Market, it will not take too long to stop at both.
Arches National Park is only a few miles north of Moab so the drive is not long. There will be a fee to enter the park. Since you will be visiting more than one national park on this 5-day Utah road trip itinerary, we highly recommend purchasing the annual pass to the Southeast Utah Parks. The Southeast Utah Parks Annual Pass admits the pass holder, a passenger of one motorcycle, or up to 15 passengers of a single, private (non-commercial) vehicle to Arches National Park, Canyonlands National Park, Natural Bridges National Monument, & Hovenweep National Monument. Also, make sure you take the map available at the entrance.
Once inside the park, there is a lot of things to do and see. We recommend stoping at the visitor's center as your first stop. The visitor's center will be within a mile of the entrance and easy to spot. At the visitor's center, you can see more details about the trails and activities going on in the park. This will also be a place to get water (they have a fill-up station), any final gear (hats, sunscreen, etc.), go to the restroom, and even talk to a park ranger. It is worth the stop!
Now time to explore the Arches National Park. Use the park map as your guide or use a GPS driver's guide. Here are a few tips we have regarding your visit to the Arches National Park:
Take and DRINK plenty of water during your entire stay
Drive to the back of the park (Devil's Garden Trailhead) first to start your day. This has limited parking and will fill up fast. We did NOT do this, but recommend it after visiting the park.
Take the hike to both the Upper and Lower Delicate Arch Viewpoints
Make sure to stop at Panorama Point. This is a 360-degree view of the park, a must stop. There are restrooms and picnic benches at this stop.
Have a picnic at Panorama Point.
Take the short hike to see both the north and south window and Turett Arch. The double arch is also in this area. Parking for all 3 is in the same spot and it fills up quickly. You can park at the Double Arch and easily walk to the other arches. You get the biggest bang for your buck at this stop.
Make sure to stop at the La Sal Mountains Viewpoint. You will see the La Sal Mountains that loom over the Arches National Park.
Take lots of pictures
Hike to the Sand Dunes Arch, especially if it is a hot day. You will be rewarded for this short hike!
View our entire photo album of Arches National Park on SmugMug.
After a day in Arches National Park, it is time for dinner back in Moab. There are many places to each in Moab, especially Mexican dining. We recommend eating at El Charro Loco if you are in the mood for Mexican. While there are many other dining venues, we really liked the food quality and quantity here. There are not many chain restaurants in Moab, so you will experience some unique food options than in most locations.
If you are not tired after dinner, plan on going back to Arches National Park to do some stargazing. We recommend going back to Panorama Point for this activity. There are plenty of parking spots there and they have benches you can lay on to stargaze. Make sure you take your flashlight and a jacket so you don't get cold.
Now it is time to get back and have a good night's stay and sleep at the Fairfield Inn.
Overview of Day 3:  


Start/Finish Locations:  Moab/Moab
Total Miles Driven: 6 miles from Hotel to Arches National Park Entrance and back (More depending on the amount of the park you visit)
Best Tip for the day: Pack a table cloth and utincils for a picnic in the park
Must-Do for the Day: Stargazing at Panorama Point in the park
Recommended Place(s) to Eat: El Charro Loco in Moab, UT
Utah Road Trip – Day 4 (Canyonlands National Park/Moab):
Day four of your 5-day Utah road trip itinerary is where you will spend time at the Canyonlands National Park. The Canyonlands National Park has various locations you can go to. Because the Island in the Sky is only 30 miles, or 40 minutes away from your hotel, it makes it a perfect stop for your trip. And, because Dead Horse Point State Park is right on the way, you can visit both parks on the same day.

Both of the Island of the Sky and Dead Horse Point State Park are much different than Arches National Park. While there are a few trails, the trails are much longer and are much more involved. Most of the parks can be driven by several places to stop and view the sites. The Park system has done a great job with its road network and viewing areas. They are clean and they are maintained well. Plus there are fewer people in this park vs. Arches.
View our entire photo album of the Island in the Sky – Canyonland National Park on SmugMug.
You will find several people with jeeps at this park because of the various off road trails that are avialble.
Because you will be driving most of this park, it will not take a full day to experience the entire park. For us, we were a little tired from the day before so just driving around ended up being really nice for us.
Here are few tips we have regarding visiting the Island in the Sky – Canyonland National Park:
Take the small trail to see the Mesa Arch. Make sure you take the alternate path on the way back
Have a picnic at Upheavel Dome. Parking is limited, so do an early lunch. There are plenty of picnic benches and restrooms here
Be prepared to stop at every lookout. The views are breathtaking.
As mentioned before, you will not spend the entire day at these parks, so you can spend the rest of the day back in Moab exploring the downtown area where there are many cute shops and eating establishments. You can easily walk most of the downtown after you find a parking spot close to it. We decided to eat dinner at Zax Restaurant and enjoyed the atmosphere and food.
Because it was a great evening and still a little hot, we spend our last evening, after dinner enjoying the pool at the Fairfield Inn.
Overview of Day 4:  


Start/Finish Locations:  Moab/Moab
Total Miles Driven: 60 miles from Hotel to Arches National Park Entrance and back (More depending on the amount of the park you visit)
Best Tip for the day: Pack a table cloth and utincils for a picnic in the park
Must-Do for the Day: Explore downtown Moab
Recommended Place(s) to Eat: Zax Restaurant in Moab, UT
Utah Road Trip – Day 5 (Drive back to Salt Lake City):
Drive back to Salt Lake City via Utah-6
Return Renal car
Fly Home
After a good nights sleep, it is time to head back to Salt Lake City to end your trip 🙁 Grab some coffee from one of the local coffee shops, like Love Muffin Cafe, then hit the road. You are going to want to take the quickest route back to Salt Lake City from Moab. This means you will take Utah-191 to I-70 then Utah-6. This is a long trip, 238 miles, or a little under 4 hours. Make sure you stop around Price, Utah for gas, restrooms, and snacks. Some stretches of Utah-6 are long with no place to stop for gas, restrooms, or snacks.

Make sure you make time to take the rental back before you go to the airport. Security was not long and they have CLEAR available is if you want to bypass the security.
Booking Resources for your Utah road Trip
There are many tools you can use to plan and book your 5-day Utah road trip itinerary. You can always reach out to a qualified Travel Agent to help you make sure all the details are taken care of for you, or you can book several components yourself.
If you are the do-it-yourself type, here are some tried and true booking resources we recommend:
Airport Parking

– Save money by parking your vehicle off-site

Park n Fly
Airport Parking Reservations

Airfare

– If you are flying into Salt Lake City

Southwest
Google Flights
CheapOair
Scott's Cheap Flights

Airport Lounges

– Why not rest in the airport in style

Airport Security

– Frictionless navigating airport security

Car Rental

– Rent a car from a trusted source

Fox Rental Car
Dollar Rental
GotRental Cars
Airport Rentals
RentCars.com

Hotel

– A place to lay your head in Park City and Moab

Marriott Hotels
Radisson Hotels
Hilton Hotels
OneTravel

Villas/Home Rental

– Alternatives to your standard hotel

Escorted Tours

– Maybe you want to have someone else do the driving and have the entire trip escorted

Great Value Vacations
Trafalgar
Intrepid Travel

Excursions/Tours/Activities

– You will want to do some activities

Luggage

– You will need a place to put all your clothes

American Tourister
Samsonite

Pictures/Memories

– You will have many memories you will want to keep for a lifetime

Newverest
Photobook
SmugMug

House Sitters

– In case you are leaving some pets at home

RV Rental

– There is another way to experience with 5-Day Utah road trip itinerary!

Travel Insurance

– Protect your vacation investment and yourself with Travel Insurance
Conclusion of the best 5-Day Utah Road Trip Itinerary
With the right planning, preparation, and booking in advance, you can make your trip to Utah magnificent! The sights are magnificent, so there is no reason for you not to enjoy God's magnificent creation!
While there are several other things to see in Utah, we feel this 5-Day Utah road trip itinerary gives you a quick view and experience of some of the best things about Utah. And, because you are mostly driving and experiencing the National Parks, this quick getaway or vacation can be economical for you.
View our ENTIRE photo album of our 5-Day Utah Road Trip from Salt Lake City trip on SmugMug.
In short, we had a great time, and we are sure we will do it again since we are sure there are things we missed. For that reason, we would like to return with our entire family next time.
Tell us if you have done a similar 5-day Utah road trip itinerary. What did you do? What would you recommend? What were your favorite thing you did and your favorite food? Comment below or, contact us and let us know and we would love to add it to this article.